Guinot Hydra Summum Facial. Hydra Summum is a skin plumping and moisturizing treatment with a high concentration of Hyaluronic Acid.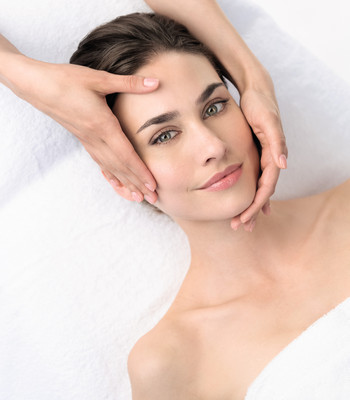 Hydra Summum treatment will leave the skin feeling hydrated. Fine lines are wrinkles are visibly minimized. The skin will look plump and rejuvenated.
Step 1: Hydra Summum Exfoliator - Gently exfoliates & prepares the skin.
- Cellulose Microparticles + Jojoba Seeds + Bamboo Particles: helps to eliminate dead skin while stimulating renewal and restoring a radiant glow to the complexion.
Step 2: Hydra Summum Concentrate
Plumps the skin and smooths fine lines and wrinkles.
- A high concentration of Hyaluronic Acid, helps fill in wrinkles, and visibly plumps up wrinkles, while boosting hydration with lasting results.
Step 3: Hydra Summum Massage - Smooths lines and wrinkles and restores moisture.
- Intensely restores moisture, thanks to Hyaluronic Acid and Hydralogic Complex.
This complex, composed of Aquasilanol and Hydrocyte Complex, recreates the moisture levels of youthful skin. The Ultra Filler Spheres deliver skin smoothing and plumping action. These new-generation spheres combine low-molecular-weight Hyaluronic Acid and Konjac Glucomannan (coming from the Konjac plant), and it has great water-absorbing capacity. The active facial techniques used in the facial help smooth the skin, drain toxins, and restore radiance to the complexion.
Step 4: Hydra Summum Mask Seals Moisture into the skin.
Hyaluronic Acid + Hydralogic Complex + Acticalm
Enriched with potent hydrating ingredients (Hyaluronic Acid and Hydralogic Complex) this mask immerses even the most dehydrated skin into a refreshing, moisture-replenishing bath. Combined with a fresh gel texture, Acticalm soothes dry skin. It helps restore the skin's barrier function and minimizes sensations of tightness and discomfort.